THE BIG LAP PLANNER PACK 
This collection of maps has the best that each state has to offer for your big lap around Australia. If you've been planning this trip since forever but you're just not sure where to start, then this is the ultimate pack to get you inspired and be prepared on the road.  
The Big Lap Planner Pack includes:
HX-1 Navigator (RRP $699)
Fraser Island Map (RRP $14.95)
Australia Large Map (foldable) (RRP $12.95)
Northern Territory Handy Map (RRP $9.95)
Cape York Map ($14.95)
Pilbara and Coral Coast Map (RRP $14.95)
Kimberley Map (RRP $14.95)
High Country Victoria Map (RRP $14.95)
Great Desert Tracks Edition 5 (RRP $ 69.95)
Purchase the Navigation Kit Pack for $759.95 and save $106.65. Also includes FREE shipping.  
HX-1 NAVIGATOR
              
Hema's HX-1 GPS Navigator is a 7-inch multi-touch screen GPS for on and off-road navigation. It comes with 2 choices of navigation to switch from one to another to suit your specific travel needs.
Drive Mode: This mode features street mapping for Australia & New Zealand and can be used for daily navigation.
Explore Mode: This mode is ideal for navigation to remote areas and 4WD track. This also features trip planning & trip-recording tool to plan your adventures  
Other prominent features include 5MP camera, 6,000+ caravan parks/campsites & 45,000+ POIs.
The HX-1 Package includes:
- Hema HX-1 Navigator
- Cradle and windscreen mount
- HX-1 drawstring pouch
- 12-24V 2A car charger
- USB cable
FRASER ISLAND
Fraser Island is one of the most diverse 4WD destinations in Australia, with beaches, rainforests, perched lakes, sand blows and more fitting into the world's largest sand island. The map includes touring information on each distinct region, things to do, island access, permit information, accommodation, useful contacts and helpful insights for sand driving.
AUSTRALIA LARGE MAP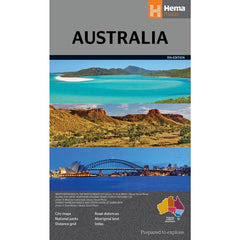 A folded map of Australia that is ideal as a reference and trip planning tool, with the country's major road networks featured along with Outback fuel, distances and major national parks marked on the map. On the reverse are CBD and through road maps of Adelaide, Brisbane, Canberra, Darwin, Hobart, Melbourne, Perth and Sydney.
NORTHERN TERRITORY HANDY MAP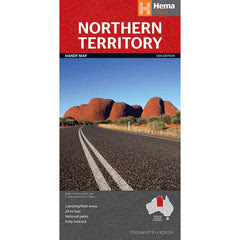 A fully indexed map of the Northern Territory (NT) at a scale of 1:1,750,000. Marked on the map are national parks, camping areas, rest areas, caravan parks, points of interest and 24-hour fuel accompanied by a distance grid.
CAPE YORK MAP
Situated in the far north of Queensland, Cape York is known for its 4WD tracks such as the CREB Track, Old Telegraph Track, Frenchmans Track and More. This Cape York map featuring the Old Telegraph Track combines the entire database of roads & 4WD tracks with touring points of interest, with camping areas, national parks and accommodation.
PILBARA & CORAL COAST MAP
A regional map of the Pilbara and the Coral Coast (1:1,250,000), GPS surveyed roads & tracks. The map includes:
Inset maps
Fuel supplies
Camping areas
What to see and do
National parks
The inset maps include Millstream Chichester National Park, Karijini National Park and Karlamilyi National Parks. Regions covered with travel and background information include Ningaloo Coast and more.
HIGH COUNTRY VICTORIA MAP 
Located in the North East of Victoria, the High Country is known for its Alpine back roads and forest tracks. Many four-wheel drivers find this region a treasure trove to test their skills.
This new edition of Hema's best-selling High Country Victoria Map features roads and tracks with touring points of interest and topographic information. Also included are seasonal track closures, camping areas, old townsites, huts, accommodation and distances.
THE KIMBERLY MAP
Known for its jagged, steep red rock mountain ranges, the Kimberley is the most northern region of Western Australia. The Kimberly Map features the iconic Gibb River Road. On the reverse are inset maps for Purnululu National Park, the Dampier Peninsula and the Parry Creek area. There is also extensive drive detail and trip coverage for the Gibb River Road.
GREAT DESERT TRACK ED.5
 
Explore the arid centre with this comprehensive guide to traversing Australia's desert regions. Whether you're a 'desert lover', or just looking to tackle some of Australia's favourite 4WD destinations, this informative guide is an indispensable companion to this country's arid centre.
Related Products